23/01/2010
http://www.nationmultimedia.com/breakingnews/30120793/Berlins-oldest-taxi-revives-memories-of-%22Iron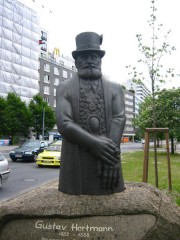 Berlin's oldest taxi revives memories of "Iron Gustav"
Berlin - Although he's never done the long trek from Berlin to Paris like famous German coach driver Gustav Hartmann, who once made the journey in protest at the growing number of cars on the road, Berlin taxi-driver Ralf Werner is in a way following in the footsteps of the man known as "Iron Gustav."
Werner, too, is not a slave to progress and continues to ply his trade with a 45-year-old Mercedes Nepomuk, which he has named after Saint John of Nepomuk and has even managed to drive all the way to Croatia as well as the mountains of southern Germany.
Otherwise, Berlin's oldest taxi is almost always only to be seen at work on the streets of the German capital, where it has become a firm favourite with tourists, especially those from England and the United States.
Celebrities such as Harald Juhnke and DJ Paul van Dyk have also called on the services of the Nepomuk old-timer driven by Werner, who feels he is, in a way, emulating Hartmann, whose story novelist Hans Fallada told in his book Iron Gustav, even if he doesn't organise protest rides.
"In a way, I'm sort of a modern Iron Gustav who simply can't let go of his Nepomuk," says the 72-year-old from the Reinickendorf area of Berlin. Werner has been driving a taxi for over 40 years and comes from a long line of taxi-drivers that stretches back four generations.
His great grandfather was also a driver, starting with a horse and carriage before turning to motorised vehicles at a later stage, while Werner worked with his father from 1969 to 1973 before striking out on his own.
Hartmann rose to fame in April 1928 with his journey to Paris and on his return formed a foundation to provide for the dependants of deceased taxi-drivers.
As well as being immortalised in print by Fallada, Hartmann's story has also been the subject of several films with, among others, German actors Hans Ruhmann and Gustav Knuth in the main role.
Like Hartmann, Werner also fights against modernity and has categorically ruled out the use of phones and radios in his business. He also won't let any unfamiliar hands touch his beloved 1964 Mercedes 190 DC.
"I repair and clean my Nepomuk myself. I look after it like a goo
d old friend," says the qualified metal machinist.
Not surprisingly, the car is a hit with many guests with its elegant lines and red upholstery and has already clocked up nearly 940,000 kilometres in its life.
Nowadays, Werner almost always only works nights while the car is often used during the day in films or for weddings.
"When I notice that my colleagues are managing the early morning hours without me, then I'll simply call it a day," he says.
However, at the moment Werner has no intention of quitting and names a Lisbon taxi-driver who continued working until he was 97 as his inspiration.//dpa