30/08/2015
From:
http://www.bgagency.it/Site/Pages/DocumentClient.aspx?cli...
Hans Fallada's most personal novel and his own life story combined in one graphic novel adaption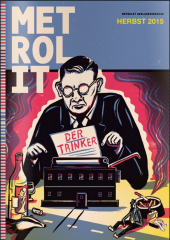 Jakob Hinrichs / Hans Fallada
THE DRINKER
Graphic Novel
17 x 24 cm
Hardcover, 160 pp.
four-colour print
September 2015
"Of course I have not always been a drunkard.
Indeed it is not very long since I first
took to drink."
CONTENT
The Drinker is one of Fallada's most personal novels. It was written secretly in 1944, while Fallada was imprisoned after the alleged murder of his wife. Both Fallada's experiences as an alcoholic and the story of his failure in life are worked into The Drinker. It's natural, then, to combine the story of the downfall of Erwin Sommer, an average man who starts drinking during a personal crisis and proceeds to lose his wife and life to his addiction, with Fallada's own biography. The well-known illustrator and comic artist Jakob Hinrichs has extensively researched Fallada's life and work and convincingly entwines the shocking psychogram of the alcoholic travelling salesman Sommer with the touching life story of an outstanding writer who continued to suffer from morphine addiction and alcoholism until his death in 1947.
AUTHOR
Hans Fallada was born Rudolf Wilhelm Friedrich Ditzen in 1893 in Greifswald. He spent much of his life in prison or in psychiatric care, yet produced some of the most significant German novels of the twentieth century, including Little Man, what now? and Every Man Dies Alone. He died in Berlin in 1947.
ILLUSTRATOR
Jakob Hinrichs graduated with a degree in Illustration from UdK Berlin in 2004 and has since worked as a freelance illustrator und comic artist for publications like The New York Times, Boston Globe and The Guardian. His first graphic novel, a graphic adaption of Arthur Schnitzler's Rhapsody, was published in 2012 and has been translated into several languages. He lives in Berlin.
FOREIGN RIGHTS: Inka Ihmels ihmels@aufbau-verlag.de