24/06/2012
From the Toronto Star
http://www.thestar.com/news/books/article/1204547--a-smal...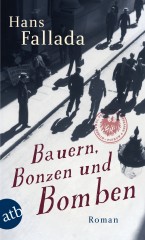 A Small Circus by Hans Fallada: Review
By Michel Basilières (01-jun-2012)
After years of neglect, the works of Hans Fallada are enjoying a resurgence. His novel Alone in Berlin was a bestseller in England on its republication in 2009. Other works have appeared as well, and now his portrait of provincials Germany between the wars, A Small Circus, is available from Penguin Classics. Set in 1929 and originally published in 1931, the novel received praise from such diverse people as Robert Musil, Hermann Hesse and Joseph Goebbels, who praised it for criticizing the Communists. At the end of his life, in East Germany after the World War II, Fallada got in trouble for the same reason.
The book is based on actual events which Fallada himself witnessed and reported on as a journalist. It has a rather large cast of characters, so much so that in the opening chapters it's a little difficult to keep track of who is who. There are three main groups of actors: journalists, the police, and politicians. None of them has any qualms about acting in a totally self interested manner. This longish novel is a maze of back and forth scheming, backbiting and betrayal.
The action begins as a couple of bailiffs, attempting to auction off two oxen to pay a farmer's debt, are foiled when all the local farmers band together against the repressive state. When one of their number is jailed, a mass protest is planned in the town, Altholm. Word leaks out and the police plan a crackdown. Meantime, journalists from various papers all seem more concerned with selling advertising and trouncing their rivals rather than reporting the truth, communists plot against national socialists, and the slimy mayor of Altholm deftly juggles all of them against each other.
It's hard to be too critical of the character's moral lapses under the circumstances of economic hardship — something many people can identify with today. For instance, Tredup is a hard up married man and father who works for a failing newspaper and gets paid a pittance by the piece; when he is in the right place at the right time to photograph some farmers foiling the bailiffs, he realizes he can make a large sum of money by selling the pictures to the right faction. Throughout the novel he's forced to make unethical choices simply to provide for his family, but in the end must learn to live with his conscience. Similarly, the mayor seems the one man who can step into a tense situation and diffuse conflicting tempers, but he constantly uses deceit and chicanery, and spends much of his time putting out political fires.
Fallada's style is direct and colloquial and depends heavily on dialogue. He's very good at this and it makes the plot, which is heavy on detail and intrigue, zip along at a quick pace. Women play almost no part in this novel. It's populated almost entirely by chauvinistic, overbearing and egotistical men. Their wives are virtually invisible, except when their husbands are berating them. Aside from the gripping web of intrigue and the exposure of small minded hypocrisy, A Small Circus vividly portrays a decaying society without a moral compass, slouching towards fascism, needing very little push over the abyss.
Fallada himself was criticized by fellow German authors who fled Nazi Germany, notably including Thomas Mann. Although he was not a collaborator, Fallada did struggle with making his works acceptable to the Nazi censors. He was a man with weaknesses — drug addiction, depression, alcoholism. He struggled with the idea of fleeing Germany but was not emotionally capable of leaving his homeland. But in this and other novels he leaves behind an exceptional portrait of the people and the forces in conflict as the Weimar Republic collapses.
A Small Circus inevitably will be read as a document of historical interest, but the machinations of the characters are themselves an absorbing story, and a portrait of how tough and changing times make for tough choices and moral compromise.
Michel Basilières is the author of Black Bird (Vintage Canada). He teaches creative writing at the University of Toronto's School of Continuing Studies and at Humber College.